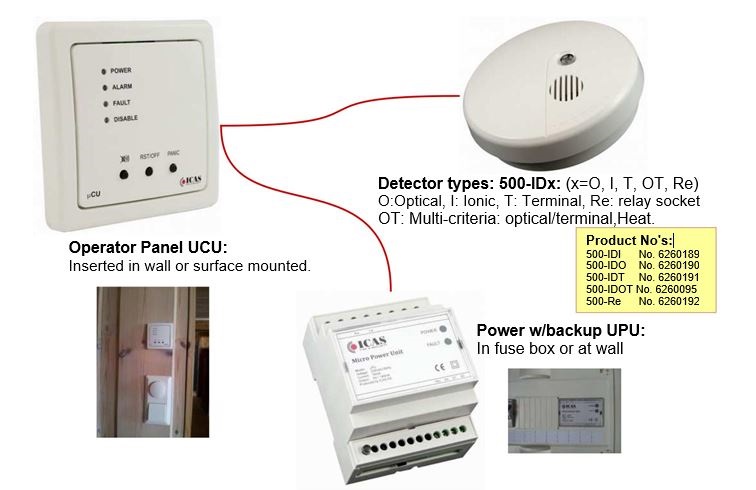 Simple installation:
The units are suitable for inserted wall boxes or surface boxes.
4 wires between Power UPU and operator panel UCU
4 wires from UCU to fire detectors 500-IDx. Max. 11 detectors in systems with 8 connected with siren (85db).
Operation – Universal Design:
Simple operation from detectors with standard visual and sound signalisation (54-2).
All operation with convenient access. No need for reaching detectors in the ceiling.
Integrated Manual Fire Alarm button «Panic» giving instant Fire Alarm. No delay.
Note! The Panic button are only active if the Operator Panel is in Fire alarm condition.
Silencing fault alarms after 10 minutes, will be automatically activated.
Testing of sounders using designated test button. Test signals last for 3min.
Outputs:
Siren/Sounders (max active in 10 min.)
Alarm Relay (No/Nc/Com) which can time delaying for 15sec, 3/6/9min.
Fault Relay (No/Nc/Com), may be chosen to be activated in case of disabled system.
OC output give 0V in alarm.
Security:
Self -calibrating sensitivity, insects/dust in detectors will be indicated as yellow blinking.
Loop- and power faults as well as sounders dis-connected will be indicated as fault.
Modern battery and charging technology gives the system 72hr. backup.
The charger adjusting itself to the battery condition keeping the battery in prime condition.
Integration to other systems:
Simple integration to larger addressable fire systems, KNX systems etc.
Supervision of loop and sounders. Power and batt fault can be sent to external systems.
External Fire alarm from other systems may activate the sounders in the system
System functions:
Each apartment has its own operator panel UCU which also can transmit the alarm to the other apartments.
Alarm in one apartment will start alarms in all other apartments connected to the system.
uCU-rs485 which are the com unit in the operator panel can delay the transmitting of the alarms in 2 min.
Alarm relay can have time delay of 15sec/3/6/9min.
Silence the sounders after 10 min. using the pushbutton. Max sounders time 10 minutes.
Detector which is in Fire Alarm will have a fixed RED led. Detector having been in alarm will be blinking red.
If local alarm signal disappears and detector is no longer in alarm, the Fire Alarm relay will be reset.
An UCU having been in Fire Alarm has memory and must be manually reset using button: «Disable»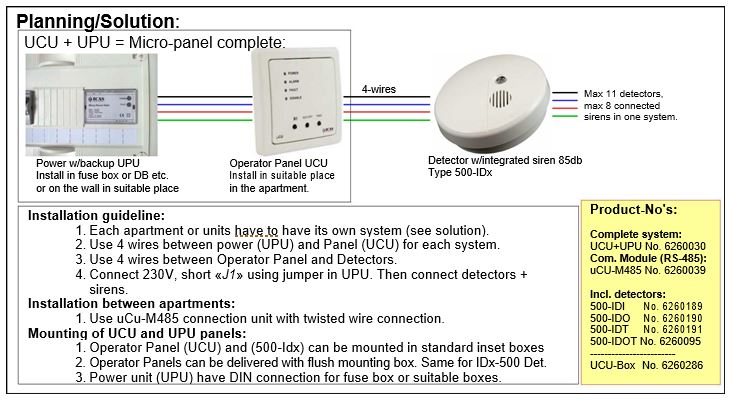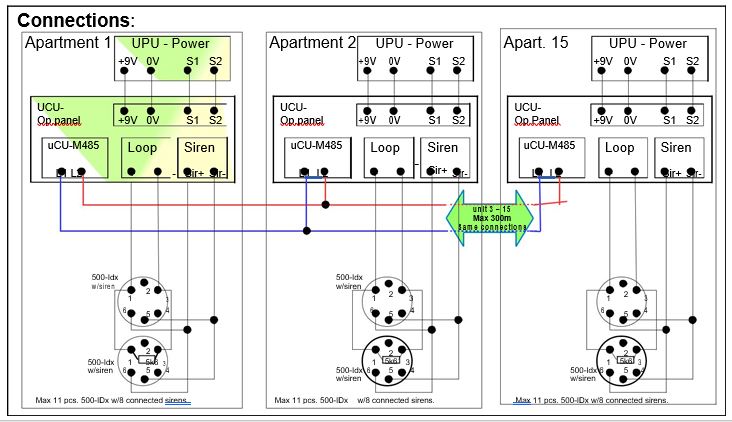 ;